EMBROIDERY HOME
Promotional Polo Shirts, Promotional Golf Shirts; Design Your Own
Embroidered Promotional Golf Shirts, Embroidered Promotional Polo Shirts

Promotional polo shirts, or the ability to design your own promotional polo shirt online is offered by many screen printing, embroidery, promotional products and decorated apparel companies.

Crooked Brook is not a promotional products nor a decorated apparel company; it is a label used by the atelier division of our art studio.

Our shop is a full-service apparel design, pattern making, sample making, and small lot production atelier. In addition, we offer promotional polo shirts that you can customize with;

Polo shirts are more casual than a woven button-front shirt and dressier than a t shirt. They became so popular on golf courses, people started calling them golf shirts. Although the words "polo shirt" and "golf shirt" are used interchangeably, the term polo shirt is more popular.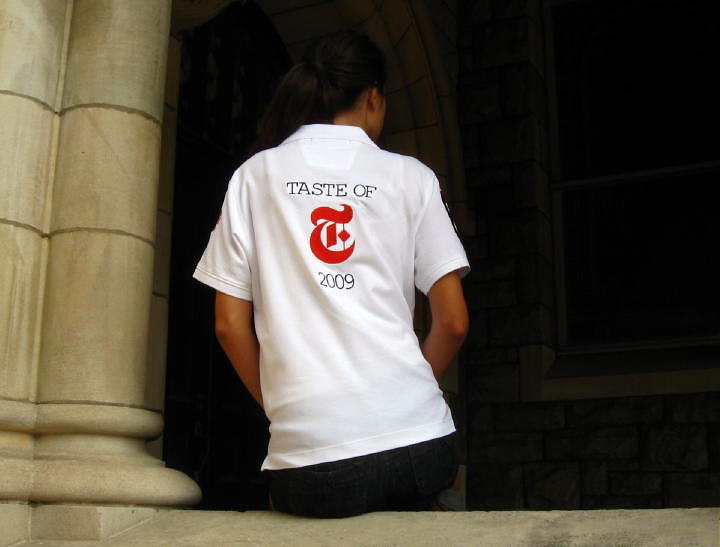 Printed Promotional Golf Shirts,

Printed Promotional Polo Shirts

Embroidery, appliqué and tackle twill are not suitable for all logos because, more often than not, the logos were designed for print. With print, letters can be much smaller and colors can be incorporated more fluidly than with embroidery, appliqué or tackle twill.

In addition, embroidery, appliqué or tackle twill cannot be used on polo shirts weighing less than 5.5 ounces, which eliminates the lightest weight polo shirts and those made in performance fabrics from your choices.

Therefore, for some logos or designs, printed promotional polo shirts are a better option and a lower cost alternative to appliquéd, tackle twilled or embroidered promotional polo shirts.
Cheap Promotional Golf Shirts
, Cheap Promotional Polo Shirts
When you buy a cheap promotional polo shirt, that is exactly what you get… a cheap promotional polo shirt.

Cheap promotional polo shirts are ill fitting, thin, loose their shape, color and shrink excessively after the first wash

Numerous decorated apparel and promotional products offer "Cheap Promotional Polo Shirts", "Cheap Promotional Golf Shirts" or "Discount Promotional Polo Shirts".

If your only concern is price, contact them.
If you are interested in high quality, custom polo shirts:

Choose from the brands here.

(Prices listed are for the blank garment. Embroidery and other methods of decoration are an additional cost.)

Email the brand, style, color, size break down, gender and artwork for your logo to info@crookedbrook.com

We will get back to you with a quote.