Costume Design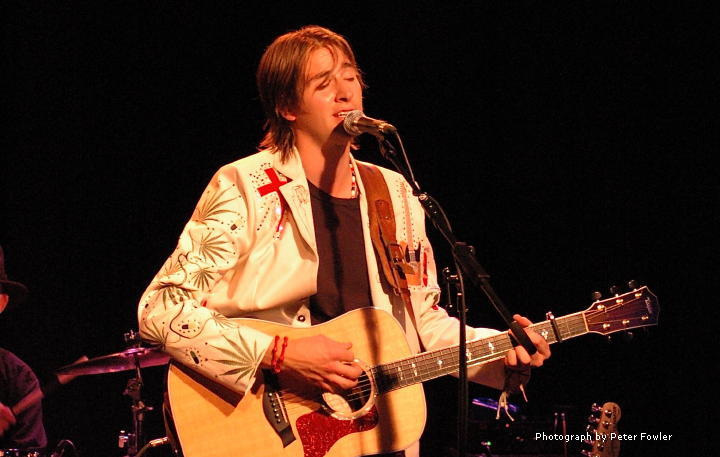 Custom made and embroidered jacket for the theatrical concert,
"Grievous Angel: The Legend of Gram Parsons"

Costume design is the art of creating apparel for a character in theater or film as well as other types of performances. The four types of costumes are historical, fantasy, dance and modern. Designs are first sketched, then prototypes are made to get the form and fit correct, then the final costume is constructed and assembled.

Costume design has evolved from simple masks to such elaborate ensembles that completely transform the performer, sometimes changing their gender, or even species. Costuming is a very important factor in theater arts because it is a stage performance involving an audience. The audience's awareness of a character's traits, personality and role is strongly dependent on the performer's costume.

Costumes are sometimes representative of how the character in a production evolves or fails to evolve throughout the plot. A stagnant character will wear the same garb from start to end and a dynamic character may go through an entire series of costumes throughout the performance to visually represent how the character changes in the story.
A costume designer is part of the production team in theater and will work with or as a costume illustrator as well. A costume designer has a lot of different aspects to take into consideration when designing a costume. Not only do they need to worry about the style and fit aspects, but they also need to take into consideration the lighting, movement of the character on stage, durability of the outfit to withstand the entire performance and multiple performances, wash-ability, as well as historical accuracy. A good costume designer must have strong artistic capabilities, pattern making skills, knowledge of textiles, costume and fashion history, period garb, and be able to collaborate with the performers, directors and character's to meet their needs.

Also, fine detail will likely not be seen so if there is something on the garment that needs to be recognized or read by the audience, it is best to exaggerate it's size. It is important for the people in the back row to know as much as the people in the front row, so certain things that are of the most relevance are sometimes made in brighter colors, with more contrast to the rest of the costume or made larger. If a character is more important to the scene, they may be wearing a brighter color, or something different than all the rest which may be wearing identical costumes, in order to help them stand out.

We have worked with producers, directors, wardrobe stylists and fashion designers for movies, television and theater. Our team of artists, fashion & costume designers, pattern makers, and seamstresses work together to make sure each costume we create is made properly. We put the utmost care and consideration into every aspect to be sure the garments are exact and able to withstand being worn.
We were contacted by Michael Bate, a well known Canadian Businessman and Entrepreneur, to create a jacket for the theatrical concert he co wrote, produced and directed, Grievous Angel: The Legend of Gram Parsons.
| | |
| --- | --- |
| | |
| | |
With respect to the original designers of Gram Parsons' legendary suit, Nudie Cohn and Manuel Cuevas, it didn't seem fitting to create a total replica/knock-off of the original. Our in-house artists worked to create a recognizable image of the original, but not a total re-creation. There was a frequent exchange of ideas, concerns and sketches between ourselves and Mr. Bate, that in the end, turned into the final masterpiece that was worn by Anders Drerup, the man who played Gram Parsons.