Aprons
Women's Bib Aprons

Chef's Aprons

Barbeque Aprons
Presentation Aprons

Split Leg-Pottery Aprons

HOME


Aprons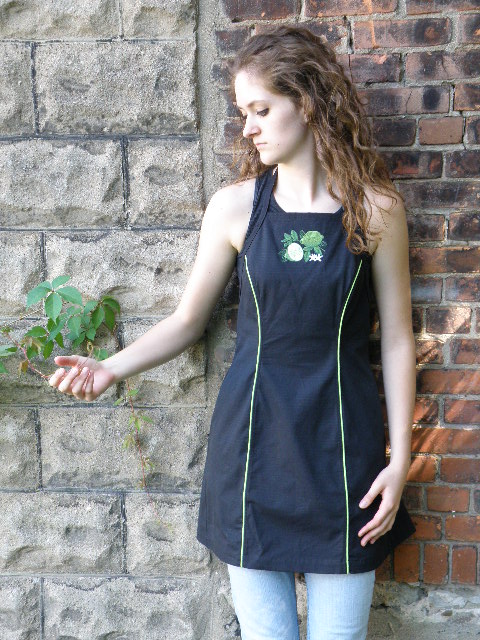 Aprons were originally worn as a utilitarian outer garment to cover the front of the body to protect the wearers clothes from soiling, wear and tear. Over the years many different styles of aprons evolved depending on the purpose, and were often named after the trade, craft or profession that used that particular design.

Today, as well as being practical, aprons are sometimes part of a uniform

as well as

serving a decorative purpose.

Custom Aprons,
Custom Made Aprons, Made-To Order Aprons,
Personalized Aprons
Custom aprons, personalized aprons or the ability to design, create or make your own custom apron online is offered by many screen printing, embroidery, promotional products and decorated apparel companies.

Crooked Brook is not a decorated apparel nor a promotional products company; it is a label used by the atelier division of our art studio.

Our shop is a full-service apparel design, pattern making, sample making, and small lot production atelier. In addition, we offer custom aprons that you can personalize with;
We also make aprons from an individual pattern according to a customers specific measurements and style requirements. You may order a custom apron the way it appears, or design an apron with your selection of fabrics, pockets, buttons and piping.
Custom Embroidered Aprons, Custom

Printed Aprons

Embroidery, embroidered patches, appliqué and tackle twill are not suitable for all logos because more often than not, the artwork was designed for print. With print, letters can be much smaller and colors can be incorporated more fluidly than with embroidery, patches, appliqué or tackle twill.

Therefore, for some artwork, a printed aprons are a better option and a lower cost alternative to appliquéd, tackle twilled or embroidered aprons.

The methods of customization for printed aprons are;

Screen Printing
Heat Applied Transfers
Direct to Garment Printing
Dye Sublimation

After we review your design or logo, apron and quantity, we will discuss which method of customization is best for you.
These
are the types of aprons we make;
There are many websites that advertise "Kitchen Aprons - $1.98", "Cooking Aprons" or "Chef Aprons-$3.95." If price is your main concern call them, don't bother us.