Buckwheat Hulls, Organic Buckwheat Hulls, Wholesale Buckwheat Hulls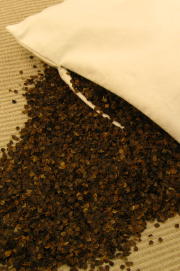 Buckwheat hulls are used as filling for pillows and zafu. The hulls are very durable and do not conduct or reflect heat as much as synthetic upholstery fills and they are an excellent substitute to feathers for people with allergies. However, buckwheat hull pillows made with uncleaned and unprocessed hulls contain high levels of allergens that may trigger an asthma attack in those who are at risk.

The Japanese word for buckwheat is soba and sobakawa (also called sobagara) translated is buckwheat hulls.

Despite the name buckwheat is not a type of wheat at all. It is a flowering plant from the family Polygonaceae and a relative of rhubarb. Buckwheat was domesticated around 6000 BC and was one of the first crops introduced to North America by European settlers. Buckwheat plants are ideal for short growing seasons in areas with low soil fertility. It is also used as a cover crop because it grows quickly and thickly which prevents weed growth.

Buckwheat is grown commercially for three reasons. Buckwheat flowers and honeybees produce a buckwheat honey, a popular monofloral honey that is dark with a strong flavor. Buckwheat seeds are used as a wheat alternative; the seeds do not contain gluten and are often used as a substitute for people with celiac disease or another form of gluten intolerance. The seeds are harvested and eaten whole as 'groats' or turned into flour. Japanese soba noodles are made from buckwheat ('soba' is the Japanese word for buckwheat). The final use for buckwheat involves the hulls, or seed casing and the Japanese word for buckwheat hulls is sobakawa (also called sobagara). The hulls are cleaned, usually by roasting, and used as stuffing for pillows and zafu (meditation cushions). The use of buckwheat in pillows dates back over 1,000 years to Asia and even earlier in Ancient Egypt.

Buckwheat pillows have several advantages over synthetic foam and feather pillows. They help reduce nighttime allergies, prevent overheating, provide better support and improve sleep quality over traditional pillows. Buckwheat hulls are hypoallergenic and if kept dry will not provide a suitable habitat for mold or insects. A very small percentage of the population will have an allergic reaction when exposed to buckwheat flour; these people may have problems with buckwheat pillows and should avoid using them. Buckwheat hull pillows are cool in the summer and warm in the winter. They will not cause the overheating common with petroleum based foam pillows. The loose buckwheat hulls in the pillow shift to conform to your shape. They provide exceptional support to side, stomach and back sleepers.

Home

Tel 315-733-1992 • Fax 315-292-1901

7:00am - 7:00pm - 7 Days a Week

Crooked Brook
901 Broad St
Utica, New York 13501

© Crooked Brook 2013. All Rights Reserved